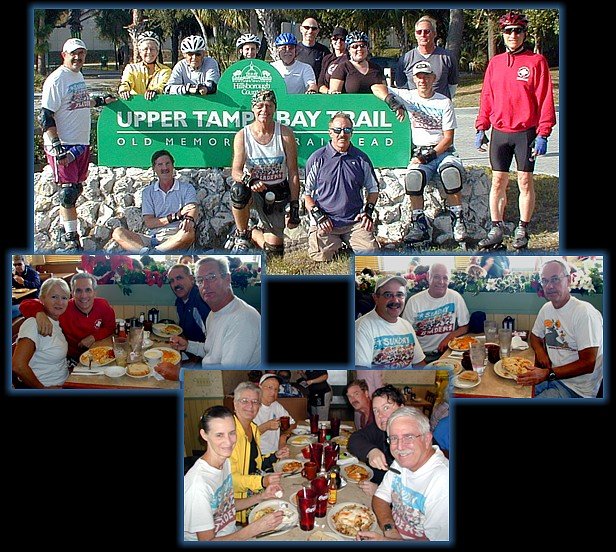 Upper Tampa Bay Trail
Another Beautiful Day in Paradise. Well, it was until about 1 PM when it started raining. The rain was needed though. We did the South end, took our group picture and headed North. Somehow Jackie and Deb B got way behind and missed the group picture. Rob Hunter joined us after a long absence. Welcome back Rob. Sandy was going to skate with us but hurt her back riding on the airplane to here and couldn't make it. Renee and Andrea are also on the hurt list. Get better soon girls. The wind out of the SE was blowing about 25 mph and no skaters went all the way to the North end. Dee indicated those that went to the big bridge did 10 miles. Rob Hunter renewed his Sponsorship today. Pete K became
a new Sponsor today. Thanks guys for the web site support.

We Brunched at the Garden Grille as planned. Got in and seated at 3 tables right away. Somehow the big table got fed first for a change. I may have teased our waitress too much. She was new to the hectic Brunch shift and was a little rattled as it was. The food was great as usual. Rob Hauser and Janice both gave it a 9.5. Jeff B even admitted his Brunch was terrific. We'll give them a 9.5.