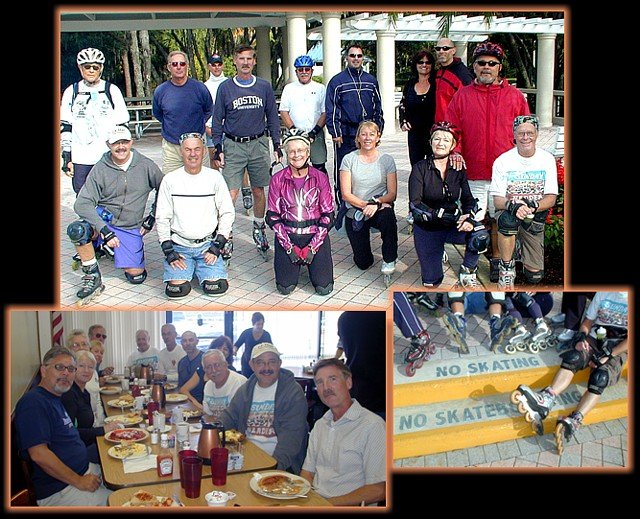 John Chesnut Sr. Park Shelter #2
Another Beautiful Day in Paradise. It was about 55 degrees this AM. A heavy tee shirt or two tee shirts or some combination with a jacket was needed. We did the Park and back roads to Lake Tarpon to take our group picture. However the bugs were terrible on the dock so we had to improvise and found a pavilion. At the pavilion were no skating steps and naturally we had to take a picture of the steps with skates on them. Dee, Roy and Jeff all agreed we did 13.5 miles Kirk, Sharrie & Pete joined us after an absence. Karen S was back from traveling. Steve's back was better and joined us. Welcome back. I couldn't let Deb B keep all the crashing attention so I did my crash today. Basically only got a bloody finger but it did bleed a lot. Dennis & Ellen renewed their sponsorship at Chuck and Debbies Wine & Olive Oil Party. Pete and Sherrie renewed their sponsorship today. Thanks for the web site support. If you weren't at Chuck & Debbies last night, you missed a good party.

We Brunched at Eve's Family Restaurant as planned. They were packed but they had taken our reservation and we got right in and seated at a big table. They gave us jugs of coffee which was nice. It took them 45 minutes to get our food to us and another 30 minutes to get our checks. However the food was great and the company even better. Janice and myself rated our Brunches a 9.5 and Rob his a 9. We'll give them a 9.4.