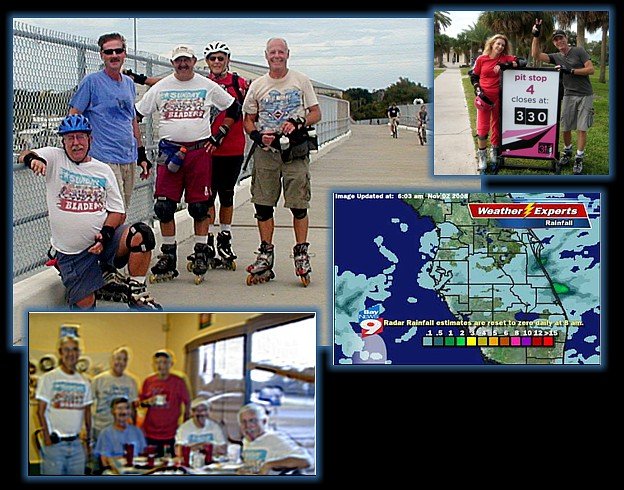 North Shore, 12th Ave
From Bruce:
Another Beautiful Day in Paradise except it was raining at 7 AM. Sent out an email canceling the skate and set Breakfast for Doe Does at 9 AM. Not many people read the email and 4 or 5 showed up at North Shore. Some made it to Doe Does after calling me. We had breakfast at Doe Does (Rob rated it a 9) and it looked pretty dry after Breakfast so we all skated except Jeff. Dee indicated we did 10 miles at an average speed of 10.4 miles per hour. We had a new skater, Peter who just moved to Tampa. Welcome Peter. Allan, Joe & Mary Beth W renewed their Sponsorship last Sunday night (Mary Beth is new). Thanks for the renewal skaters. All our picture takers today were pretty shaky.
From Mike M.:
In fact, it was actually a beautiful day in Paradise at the originally scheduled location. Only two showed up because all the others apparently were wusses. Andrea Woods and Mike Merriman had a wonderful 10 mile skate through Snell Isle and around the Pier. We were accompanied at times by hundreds of walkers for the Breast Cancer Event. The streets were dry and smooth. Afterwards we brunched at the Parkshore Grill and where Lite Jazz 94.1 was broadcasting. It was very special and we both rated our brunch an 11!
Need a Sunday Blade T Shirt? Contact Karin directly through this email address karinkoch@tampabay.rr.com Click Here for a closer look at the Cool New T-Shirts