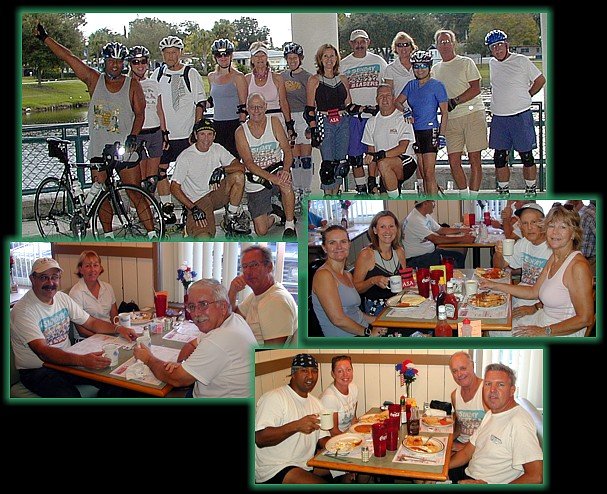 City of Seminole Park
Another Beautiful Day in Paradise. The weather was almost prefect. Just a slight breeze out of the North. Even though the trail going North out of City Seminole Park is not that smooth any more we headed North to Taylor Park. Roy indicated this was a 10 mile round trip which was just right. It appears we have not discouraged Jackie and she joined us again. Karen S. was back from her travels, Willi came again. We managed to get Glennis to show up. We had a grand time as usual. My thanks go out to Mike M. for doing last weeks write up and picture. He did an excellent job even though his creative group picture makes all of mine look bland. Thanks Mike, your are the best.

We Brunched at Doe Does as planned. Doe Does was very busy as usual but they got us in and fed in less than an hour. Some how Rob got away before he gave me his rating.. Checked with a couple of tables and got ratings from 9 to 11. We'll give Doe Does a 9.5. I was not having a good day and must have looked it. Everyone chipped in and bought my Brunch. Thanks guys and gals, you all have been a wonderful support group. We miss you Darlene.
Need a Sunday Blade T Shirt? Contact Karin directly through this email address karinkoch@tampabay.rr.com Click Here for a closer look at the Cool New T-Shirts