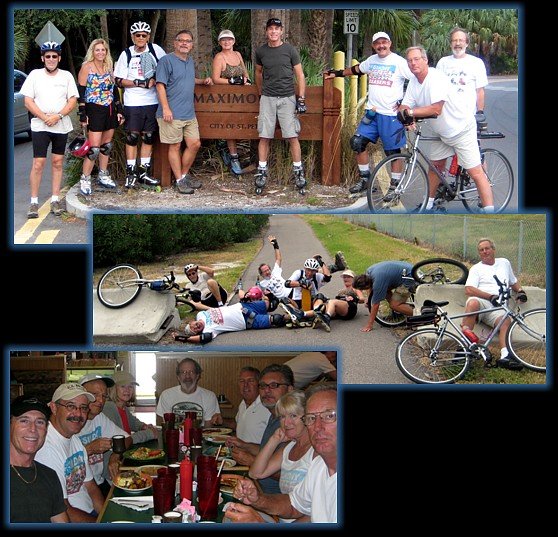 Pink Streets/Skyway Bridge Access Trail
Another Beautiful Day in Paradise and we pray that it will be a Beautiful Eternity in Paradise for Darlene Myers, Bruce's wife who passed away this morning after a long illness.
Our Deepest Sympathy to Bruce and his family.
The clouds looked ominous but the rain held off and the group skated out toward the Sunshine Skyway bridge and turned around at the north fishing pier. There was a significant headwind on the return trip but it provided a better workout. Roy clocked the skate at 10.5 miles. Dave biked with the group and had participated before but I had not met him. Nonetheless, Welcome back Dave. There was a bit of an issue with the group because Bruce, for obvious reasons, was not with us. Without our leader we were a total wreck !! Thanks to officer Dan Beasley, St Petersburg PD he took the group picture.
We brunched at Munchies and got seated immediately. It took a while for some to get served due to a mix up with the orders. Ken L and Linda S joined the group for lunch. Wouldn't you know that Ken, who arrived last, got served first. Rob rated his a 9.5 which is about the average for all.
Photos and Text Submitted by Mike Merriman, a Special Thanks to you !!
Need a Sunday Blade T Shirt? Contact Karin directly through this email address karinkoch@tampabay.rr.com Click Here for a closer look at the Cool New T-Shirts