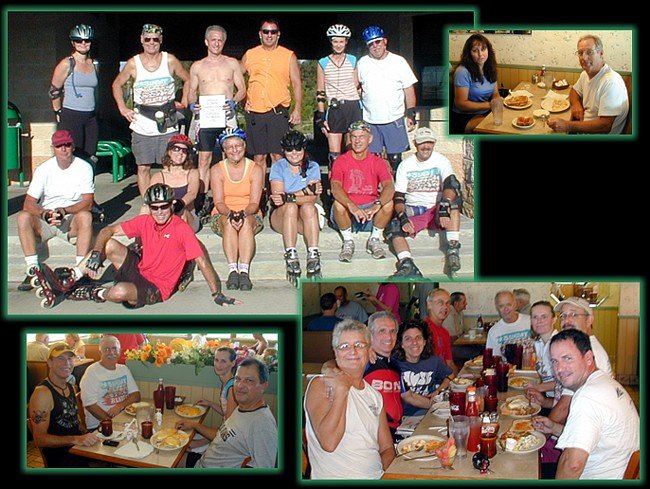 Upper Tampa Bay Trail
Another Beautiful Day in Paradise. We just did the North route as it was a little hot and sticky. For some reason today the fast roup never stopped for the slow groups to catch up and rest. By 9:40 AM everyone had finished. The fast group doing 11.8 miles. several people turned around at Gun Hwy and only did 9.8 miles. It was good to see Karen P., Kim, Terry B., Herman and Sam again. Welcome back!! Somehow Herman didn't get into the group picture. We had a pretty good group considering there was a Friday night skate, a Saturday night skate and Bucs were playing at home. Charles held up a sign in the group picture for a friend that got married and is moving to Atlanta. Sorry Charles, you can't read the sign.

We Brunched at the Garden Grille as planned. Most were shocked as their parking lot had many empty spaces. However we were there at 9:55 AM. By 10:15 AM, our usual time, the place was almost full. Our group arrived in many small groups and we ended up at 3 different tables. The service was pretty fast and the food great as usual. We got in, ate and paid in 40 minutes. Rob rated his Brunch a 9. Believe every one was a 9 or higher except for Sam. Somehow she didn't get what she ordered.
Need a Sunday Blade T Shirt? Contact Karin directly through this email address karinkoch@tampabay.rr.com Click Here for a closer look at the Cool New T-Shirts