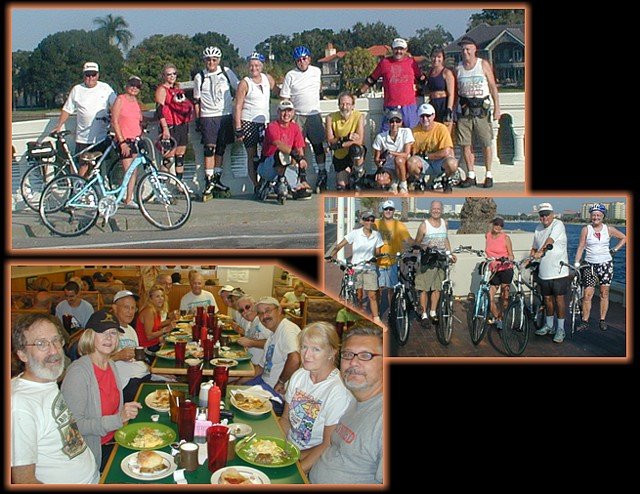 North Shore, 12th Ave in Downtown St. Petersburg
Another Beautiful Day in Paradise. Jeff had mentioned earlier about doing the Pinellas Trail from North Shore but I forgot and we did the usual North through Snell Isle route. This was actually pretty nice and had a fair amount of shade. We added in the Bay Point Dr Island and the Pier. Dee indicated we did 9.6 miles. Took our group picture on the Snell Isle bridge. Some how Helicopter Bob snuck out of the picture. We had two first time bicyclist with us: John S and Shirley. This gave us 6 bikers. Absentees Andrea, Lisa, Bob and Steve G. joined us. Welcome all. Unfortunately Deb B and Stan didn't get the schedule change and called me from the Upper Tampa Bay Trail and wanted to know where everyone was. Please note the schedule for Sept & Oct. has been revamped.

We Brunched at Munchs as planned. They had a table set up for all of us when we got there. Deb and Stan joined us for Brunch. Linda joined us for Brunch. Andrea took Daisy home but came back for Brunch. Munchs was pretty fast today and we got in, ate and paid in 50 minutes. Good comments were made about the food and Rob gave his Brunch a 9.5.
Need a Sunday Blade T Shirt? Contact Karin directly through this email address karinkoch@tampabay.rr.com Click Here for a closer look at the Cool New T-Shirts