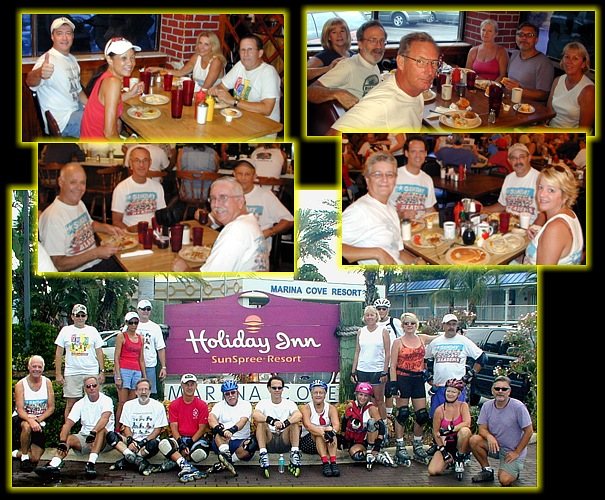 Pink Streets/Skyway Bridge Access Trail
Another Beautiful Day in Paradise. Well.....Maybe it's the calm before the storm (Fay). We elected to do the Pink Streets as a couple of people had never done the Pink Streets. However it would probably have been a good day to do the Skyway also. As a small compromise we skated up to the Holiday Inn Sunspree and took our group picture. The Sunspree parking lot looked pretty small and full to me (for the BJ Trail Skate). The blade through the Pink Streets and Bahama Shores was very easy going and pretty. We stopped for a picture at the Indian Mound and the Memorial for Princess Hirrihigua. Dee indicated we went 9.6 miles. Chris, Ginny and Dave came again Andrea and Daisy came. Welcome back!

Munchs was closed for vacation so we Brunched at Skyway Jacks. Janice and Karin went in advance as Skyway Jacks phone # wasn't getting through. They did a good job as we got in after just a few minutes wait. The all guys table for some reason got super fast service and we were in and out in about 40 minutes. The rest took another 10 to 20 minutes or so longer. Rob rated his brunch a 9 but I heard several 10s and a 9.5. We'll give Skyway Jacks a 9.5.
Need a Sunday Blade T Shirt? Contact Karin directly through this email address karinkoch@tampabay.rr.com Click Here for a closer look at the Cool New T-Shirts