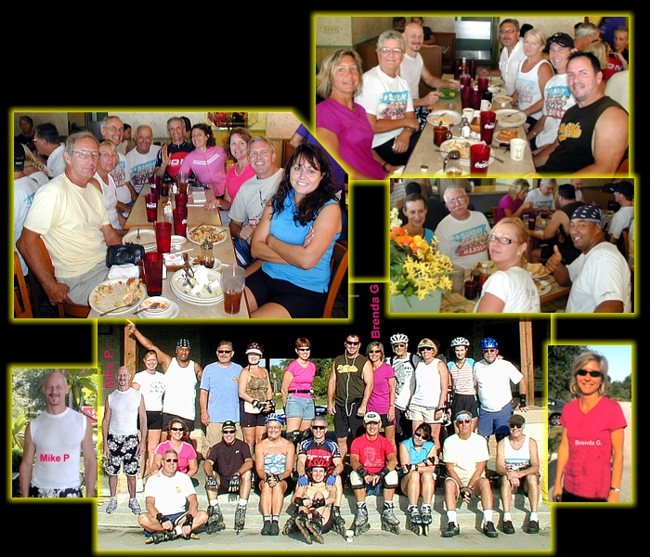 Upper Tampa Bay Trail
Another Beautiful Day in Paradise. It was nice for a change not to have those ugly rain clouds threatening us from overhead. Then again you knew it was going to be hot. We skipped the Southern end of the Trail and just went North with the shade. Absentee Terry B came and brought a friend, Brenda G. Absentee Monika joined us. Mike P. bladed with us for the first time. Karen S was back from Maine and joined us. Welcome absentee and new bladers. Dee reported the people that did the whole blade did 12 miles. Several turned around at Gunn Hwy and only did about 8 miles. Breeze and Laura became Sponsors today. Thanks for the support Breeze and Laura.

We Brunched at the Garden Grille as planned. We got right in but had to sit at 3 tables as usual. There service seemed a little speedier than normal and we got in and out in about 50 minutes. The food was excellent as usual but Rob wasn't there to give the rating. The Western Skillet I had was yummy and I gave it a 9+.

Heard from Sandy and she said to say HELLO to everyone for them.

"Gave" out only four 7-31-08 DVDs as that was all I brought. Please let me know if you want one and I will have enough next time.
Need a Sunday Blade T Shirt? Contact Karin directly through this email address karinkoch@tampabay.rr.com Click Here for a closer look at the Cool New T-Shirts