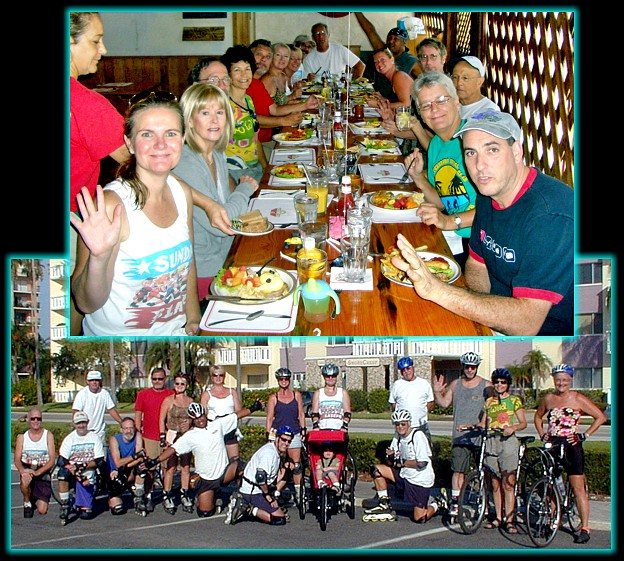 North Shore Dr NE Downtown St. Pete
Another Beautiful Day in Paradise. Well, it was a little hot and humid. Most everyone found the North Shore parking lot okay. A few did stop by the Pool Parking lot first. We headed off and went by the old Straub Park meeting place. No one was there. We then did the Pier, Beach Dr, Snell Isle and back. Dee reported we did 9 miles. Absentee bladers, Joe and Mary Beth W., Joel and little Joel, Brian and Karin K came. Welcome back bladers.

During the blade we decided to change the Brunch location to Harvey's. Brian contacted Linda and Joel contacted Kim so we figured everyone was notified of the new Brunch location. Wrong!!! Got this call from Monica and Ken from the Village Inn wondering when we were going to show up.

As usual Harvey was quick to get the crowd in and out within ah hour. Service was good Rob and Karin K rated their Brunch an 8.5. That seemed to be the consensus of the group. Thanks to Dee for the Brunch picture and write up.

Deb's Pool Party didn't make it. Somehow the pool was closed for some work and they couldn't get in. Next time.
Need a Sunday Blade T Shirt? Contact Karin directly through this email address karinkoch@tampabay.rr.com Click Here for a closer look at the Cool New T-Shirts