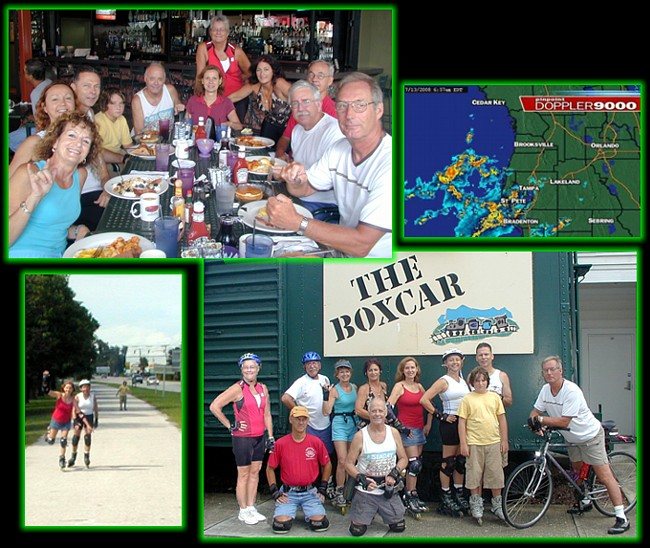 Main Street in Dunedin
Another Beautiful Day in Paradise this afternoon. This morning I thought we might wash away in St. Pete in the rain. However Suzanne and Herb said it looked good up North. The radar didn't look that good but what the heck we went for it and the skate was on. It was still too wet to skate at 8:30 AM so we went to breakfast and hoped it would be dry enough afterwards. Sure enough it was dry enough and we headed North. About 15 minutes into the skate, the skies turned blue and the sun came out. Jeanine, husband and son joined us after a long absence. Suzanne joined us. Welcome back!!! We basically had two groups. One group did 12.2 miles according to Dee. The other group did about 8 miles.

We had breakfast at Kelly's for the first time in many years. They promised to give us separate checks even though we had 11 people at the same table. Service was a little slow but we needed to let the trail dry so that was fine. Coffee was $1.99 which seemed a little high but they kept our coffee cups full. Deb D. rated her breakfast a 9. This seemed pretty much in agreement with everyone.

Suzanne donated two pairs of skates. An almost new pair of Rollerblade Brand that are size 8 and an older pair of Rollerblade Brand that are size 7.5. The newest rollerblades take a max of 87 mm wheels. They came with no wheels but she had a pile of old wheels and bearings. Any one interested, let me know. These are free.

Happy Birthday to Christine on her 29th birthday. Ha!!! Hope they had better weather on her birthday weekend than we did.
Need a Sunday Blade T Shirt? Contact Karin directly through this email address karinkoch@tampabay.rr.com Click Here for a closer look at the Cool New T-Shirts