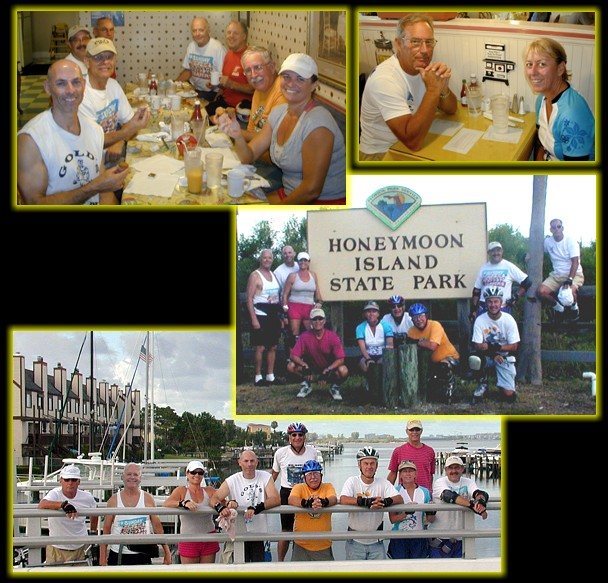 Curlew Rd & Alt 19 on the Trail
Another Beautiful/stormy day in Paradise. Looked outside at 6:30 AM today and the sky was clear. No problem, lets go skating. Heading up to Curlew revealed horrible black clouds which looked like they were directly over Curlew. It was raining just East of Curlew towards Tampa. Passing through Clearwater, the roads were bone dry. Sandy called and said it didn't look good up her way. Jeff and Herb called and I told them it looked good so far. Arriving at Curlew Road it looked like it had just poured 10 minutes earlier. Arriving at Alt 19 it didn't look that bad. By 8:30 AM, 10 people had arrived and we decided what th H..., lets try going to Honeymoon Island and back and so we did. On the way back Herb had a flat on his bike. We all sort of got separated and ended up with 3 groups. One group just did Honeymoon Island for 5 miles, one group did 10 miles and one group did 13 miles. No one got rained upon.

We decided to Brunch at Benedict's. Naturally we arrived in 3 groups. Benedict's was practically empty for the first group and the second group managed to sit with the 1st group. Karen S. and Roy (the 13 mile) group arrived about 20 minutes later and we had given their seats away but they got seated okay. About 10 minutes after Karen and Roy got there it poured down rain in buckets. They were lucky. Our table rated Brunch a 9+. Sherrie rated her eggs and grits a 10. I didn't even know grits were edible.
Need a Sunday Blade T Shirt? Contact Karin directly through this email address karinkoch@tampabay.rr.com Click Here for a closer look at the Cool New T-Shirts